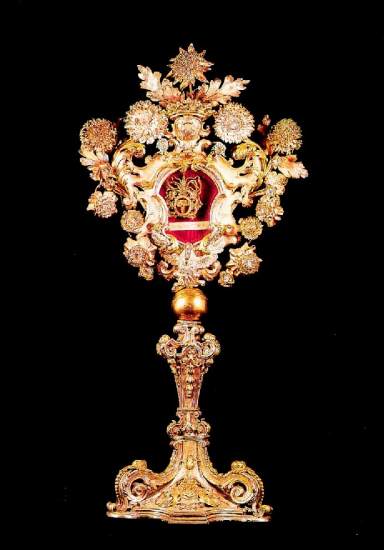 Personally, at the start of the evening, I didn't know what to expect. We began in the church where Fr. Carlos explained his vocation story and his mission. He then went on to explain what relics are and how one can open their hearts to the grace that flows from relics. Fr. Carlos then concluded by telling the stories of a few better known saints: St. Jean Vianney, St. Bernadette of Lourdes and particularly St. Maria Goretti.
Then it was time to proceed to the parish hall where some 150 relics of the Church were on display with a brief biography of their saint. The main attractions had to be a reliquary containing bone from the 12 Apostles, another with a fragment of Our Lady's veil, and finally, a portion of the True Cross.
Before entering the hall, Fr. Carlos informed us that we would probably feel a special connection with 1 or 2 specific relics; a saint that spoke to us personally, who kept calling us back. I have to admit that I was a bit sceptical on this point, but soon realized that Fr. Carlos knew what he was talking about. Although I found it interesting to see the highlighted relics that I mentioned above, I found myself drawn again and again to 2 saints in particular – St. Anne, the mother of Our Lady; and St. Jean Vianney.
We have a statue of St. Anne in a niche by our stairs at home. We pass under her watchful gaze many times a day. It's the same statue that stood at the foot of my grandmother's bed in her Ottawa apartment, the only thing of hers that I inherited when she passed away. I remember being fascinated by St. Anne and took comfort in her presence, knowing that I was in a safe place. Seeing her relic I felt as though Bonne Ste. Anne was telling me that she still looked over my grandmother as she sleeps in eternal peace with our Lord.
Almost 10 years ago my wife and I had the opportunity to visit the small French village of Ars. It's only a 10-minute drive from our friends' home and we were surprised that they had never been there, nor that I had not visited the village during one of the many trips I had taken to visit them. We had had a marvellous trip to that point, having visited Lourdes, Santiago and Fatima, but we were struck by the simplicity of St. Jean Vianney and the clarity with which he taught. As a Catholic teacher, I pray to have the same clarity of thought and expression as this great saint.
During this whole experience my wife and I tried to keep an eye out for our 8 year-old son who had met up with a buddy from school. Normally during functions in the parish hall the kids are running in and out of the tables, enjoying the relative freedom that comes when parents are deep in conversation. This wasn't the case on this evening. Whenever I spied Michael from across the room, he and his friend were engrossed with one relic or another, at times kneeling in prayer. The power and mystery of the relics filling them with grace.