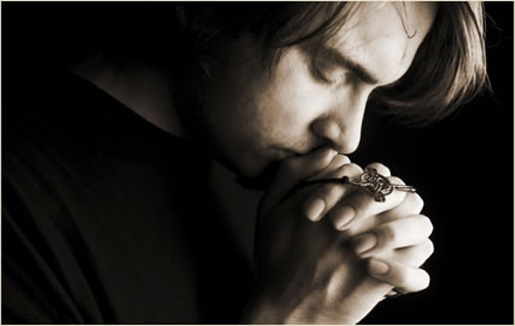 Dear Theophilus,
Prayer is a powerful tool, and like most powerful tools, it must be used with caution.
And so it is with prayer – keep on asking and you will keep on receiving; keep on seeking and you will keep on finding; knock and the door will be opened. Everyone who asks, receives; all who seek, find; and the door is opened to everyone who knocks. (Lk 11:9-10)
Christ promises us that our prayers will be answered. But are we ready to listen to God's reply?
Much like the mythical Monkey's Paw from W.W. Jacobs' early twentieth century thriller of the same title ("
The Monkey's Paw
" in
The Lady of the Barge
, 1906), although our prayers may be answered or our wishes granted, the consequences may not be exactly what we intended. In Jacobs' story, Mr. White wishes on a magical monkey's paw for the paltry sum of £200 ($75,000 in today's figures), an amount he receives as compensation for his only son's untimely death due to a factory accident the next day. Although the money would have been welcomed to pay out Mr. White's mortgage, the untold grief visited upon him and his wife was without price.
As young Catholic teachers taking the mandatory course in religious education at the beginning of our careers we were told by our instructor that God really does answer our prayers, it is just a matter of how the request is made. We were told that it was useless to ask for a million dollars, a flashy sports car or a medical miracle (in the same manner in which Sergeant-Major Morris warns Mr. White to, "wish for something sensible."), but that we should ask for the Lord's help and guidance.
At the time my wife and I had just purchased our very first home and were excitedly awaiting moving date. However, like most young couples, we were concerned about coming up with the down payment in time. Eager to put my newly acquired knowledge into practice, I began to pray. Following my course instructor's guidance, I did not ask God to mysteriously deposit the amount into our bank account, instead I prayed daily: "Lord, please help us to overcome the financial obstacle to buying our house."
Keep on asking and you will keep on receiving
My prayers were answered, but not without some unforeseen consequences. We had been so excited about our new home, the day we signed the purchase agreement we had also announced to all our family and friends our new address and moving day. Now weeks before moving day we received a phone call from the people we had bought our home from asking us to postpone the closing of our purchase by a month (a right they had had written into the original contract). Saddened that our dream of moving into our first home was delayed, we were relieved to have an extra month to save up the necessary money for our down payment.
There have been other times when I have found the need to turn to the Lord in prayer. I once received a distressing phone call from my parents that my aunt was very ill. She had suffered a stroke and her liver was shutting down. My aunt lay heavily sedated in palliative care, unable to recover from emergency surgery. That night I prayed the Rosary, knowing full well that it would take a miracle for her to recover. I asked the Virgin Mother to petition the Lord to help my aunt with her suffering.
Knock and the door will be opened.
The next morning I answered the phone knowing the news I was about to hear. My aunt had passed away through the night, surrounded by her children and grandchildren. With a grieving heart I accepted God's answer and rejoiced in knowing that He had ended her pain.
The monkey's paw of Jacobs' tale was cursed by a Hindu holy man who "wanted to show that fate ruled people's lives, and that those who interfered with it did so at their sorrow." Our Lord is not so vengeful. He rules our lives with justice and compassion. Although we may not understand the replies he sends us, we must accept the infinite wisdom with which He guides us. When we make our petitions to God, we must do so with a heart and mind that are open to the answers He gives us.